September 25, 2021
ROCKtoberfest – September 25th-26th
Ashland Brewery,
Events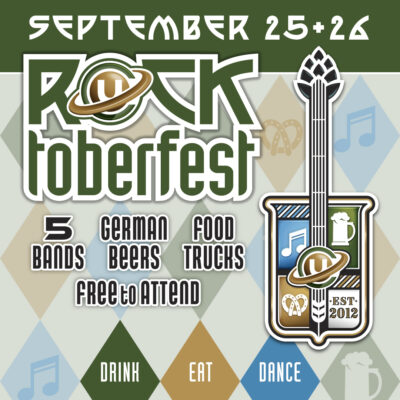 ROCKtoberfest
Everybody has music, brats, and steins for Oktoberfest. This year, we're cranking that up to 11. This is the year that the COTU Rocktoberfest storms the stage. Grab the fam and come out for two full days of multiple German style beers, German food, and as much live music as we could fit into two days. There is so much rockin' about to hit Ashland that you can't miss a minute!
Saturday 9/25:
12-3pm– The Dogwoods are back to pack the house out again. This brand new band filled the Biergarten and then some at their first show as a group in July, and just recently opened for Lynyrd Skinner.  You don't want to miss their encore performance to kick off the weekend.
3-6pm– We have some COTU faves, The Royal We, bringing us through the afternoon with rockin' takes on hits from the 60's through the 90's. This is the first time they're back in the house in almost a year, so get here early if you want a front row seat for these guys!
6-8pm– Bombage Band is in the house! These guys are Ashland locals and are no strangers to our Biergarten. These vet performers gonna rock us through the end of the day and leave you wanting more for Sunday.
Sunday 9/26
1-6pm– COTU classic Something Shiny and the newer group Crowded Minds will be sharing the stage through our Sunday Bingo. They'll be switching out throughout the day, so you'll be able to catch them both rockin' the house no matter when you get here. They'll also have a can drive set up for Feed More RVA during their set. Bring 5 cans, get a Bingo card!
LAST BUT NOT LEAST!!! We have limited edition 22 oz COTU stoneware steins that we'll be selling from the start of each day. These are first-come-first-served, and they ARE a limited quantity run so make sure to get yours!