September 24, 2022
Rocktoberfest September 24th & 25th
Ashland Brewery,
Events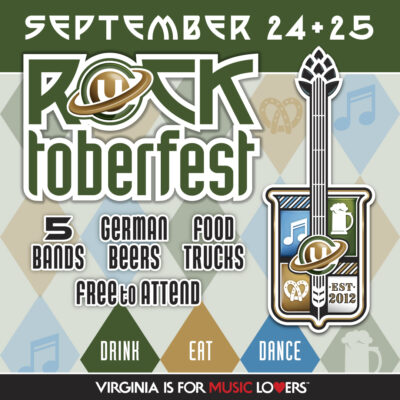 Rocktoberfest Returns September 24th & 25th
Rocktoberfest is back and we are bringing the heat to the stage in 2022. Enjoy liters of beer, German Faire, and live music all weekend long! No, we aren't putting you to sleep with Oompah music, we are lighting the stage up with 5 different bands playing everything from covers to rocking originals. Free admission, open to all ages, and leashed (and friendly) dogs welcome on the beer garden.
Band Schedule
Saturday 9/24:
James River Junction is back to pack the house out again. Playing classics that cover multiple decades, this local band will keep your toes tapping all afternoon!
Room for Improvement plays a mix of classic rock and blues cover music.
Bombage Band is in the house! These guys are Ashland locals and are no strangers to our Biergarten. These vet performers gonna rock us through the end of the day and leave you wanting more for Sunday.
Sunday 9/25
COTU classic Something Shiny takes the stage to kick off Sunday.Their unique twist on songs coupled with their humorous stage banter work together to present a most unusual acoustic show. Sit back and enjoy as they play songs spanning 5 decades and several genres in an effort to play ALL your favorite songs in both familiar and very different ways.
The "Chad's Fault" duo takes us to the finish line! A fusion of country, rock, and blues, this musical duo delivers popular covers and undiscovered gems. Features the powerful vocals of Vonda Fox and the multi-instrumental musings of Tim Robinson.
Food
Enjoy German classics like Bratwurst and Soft Pretzels from the following food providers:
Admission is free and is open to all ages.  Leashed dogs are welcome on the beer garden.