May 8, 2021
Mother's Day Weekend Truffle and Beer Pairing
Ashland Brewery,
Events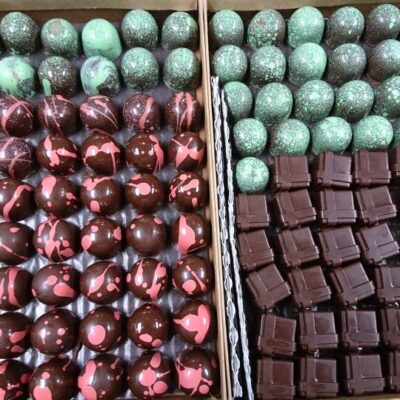 💝 To all the moms in the universe, thank you!  This is your weekend and we are here to make 2021 the best Mother's Day yet!  We have teamed up with a local chocolatier, Taylor Made Chocolates, to bring you a truffle and chocolate sampling.  Below are all the details.  Since COTU is currently 21+ during the pandemic and you may or may not want to spend YOUR day with the kids, we have both an on-premise and to-go option for you!  Dad/kids, having mom wake up with a box of chocolates and a 4-pack of beer might be the greatest introduction to Mother's Day ever.  Just sayin……
🚨 ADVANCE ONLINE PURCHASE REQUIRED BY APRIL 30th TO GUARANTEE CHOCOLATE AVAILABILITY 🚨
🍫 Taylor Made Chocolates will be on-site from 2pm – 5pm on Saturday, May 8th, with additional chocolates for sale.
Beer Pairings
🍋 Summer Moon Raspberry Wheat Ale w/a custom Raspberry and Lemon Truffle made with the beer!
🍒 Pomegranate Tripel w/Cherry Blossom Truffle.
🍊 Rally Cap Grapefruit Shandy w/Banana Cream Truffle
🍪 Oatmeal Raisin Cookie Porter w/Vanilla Butter Cream Truffle
Purchase the following options online in advance at
Purchase Truffle and Beer Pairing
Option 1 – On-premise Only
4 x 5oz flight of the beers and accompanying box of 4 truffles – $16+tax (tip included)
Option 2 – To-Go Only
Mix 16oz 4-pack can of each beer and accompanying box of 4 truffles – $23+tax (tip included)
Option 3 – Mix pack of 4 Truffles – $9+tax.
Option 4 – Summer Moon Raspberry and Lemon truffle 4-pack – $9+tax
💻 Center of the Universe is currently 21+ only (no babies, toddlers, tweens, or teens) and practicing social distancing.  Please go to www.cotubrewing.com for up to date policies and regulations during the pandemic.