December 9, 2023
Jolly Jaunt 2023: December 9th
Ashland Brewery,
Events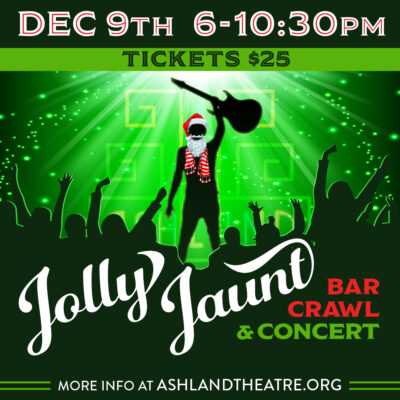 The tracks are lit, our spirits are warming, and there is a nip in the air. That means it's time to drag out your Holiday best and head into Ashland for the 5th annual Jolly Jaunt!
New this year is the Classic Holliday theme in recognition of the 75th Anniversary of Ashland Theatre. So whether you dust off that finely knitted sweater, a holiday costume, or your Sunday best, the Jolly Jaunt is your place for holiday cheer.  Cruise around town visiting participating locations and then join us at Ashland Theatre for a concert!  Proceeds from the ticket sales support the Ashland Theatre and its mission.
Date: December 9th
Crawl Time: 6pm – 8pm
Concert @ Ashland Theatre: 8pm – 10:30pm
Cost: $25
(CREDIT CARD PURCHASES ONLY, ORIGIN WILL NOT BE ACCEPTING CASH FOR JAUNT TICKETS)
Age: 21+ Only
Dress: Classic Holiday Attire
Tickets Now on Sale at Origin Beer Lab
📍 Stop Locations 📍
Ashland Meat Company/The Depot
Ashland Tattoo
Caboose Market and Cafe
Caravati's
Center of the Yarniverse
Iron Horse Restaurant
Origin Beer Lab
RefunkIt
Tiny Tim's Trains
Trackside
What is Included in the $25 Ticket:
*Passport Card
*Entry to the exclusive Jolly Jaunt Concert at Ashland Theatre featuring live music from "Don't Ask Ned," raffles, and access to a cash bar and concessions.
The Details: The crawl will start at 6:00pm and last until 8:00pm. You can start and stop at any location you choose. Once your card is filled up by visiting at least 4 of the stops, head on over to Ashland Theatre at 8pm to turn your card in for free admission to the concert. The event is being capped at 250 participants, so make sure you purchase your passport card early!
This is a 21+ only event.
The Passport Card: Passport cards will be sold at Origin Beer Lab for $25 starting on November 9th at 4pm (CREDIT CARD PURCHASES ONLY FOR JOLLY JAUNT TICKETS, ORIGIN WILL NOT BE ACCEPTING CASH) and are to be used only on December 9th during the 6:00pm – 8:00pm crawl time. These cards, once completely filled out, can be turned in at Ashland Theatre as your ticket to the afterparty. Only 1 card can be redeemed per person. There are no goods, services, or discounts provided through the passport card at the participating stop locations, unless those locations specifically say so. Net proceeds from the sale of the cards will go to Ashland Theatre Foundation.
After Party at Ashland Theatre:
There will be live music, 2 cash bars featuring beer, wine, specialty cocktails, and concessions!  Dance the night away, be jolly, and support Ashland Theatre!​