March 20, 2023
COTU Satellites
Ashland Brewery,
Events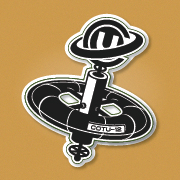 COTU Satellites
Love good beer, great people, and fun times?!  Yes?  Then it sounds like you are in the right place!  Below is all the information you need to become a Satellite as well everything you need once you are one.
Satellite Signups – To become a new Satellite, all you need to do is sign up at the kiosk in the taproom.  Then, earn points by signing in each time you visit and/or the various other ways below.  Then, redeem your points for swag or other Satellite experiences.
Satellite Points
Check Your Satellite Points Here!
Acquiring Satellite Points
Brewery Visits: Each Satellite will receive 1 point each day they visit the taproom.
New Satellite Signup: Satellites will receive 5 points for each new person they sign up to be a Satellite, upon that new Satellite's next visit to the brewery.
Outside Sales Events: Satellites will receive 5 points for attending any outside event COTU is participating in where there is both a COTU rep present and no points are being redeemed at the event itself.
Social Media Sharing: Each Satellite will earn 5 points by sharing the event(s) of the month on their personal social media page by clicking the share button on a relevant COTU post or event page. Satellites will receive 5 points per event (max 2 per month), but do not earn more points by posting on multiple social media platforms, although it is appreciated.  These events will be highlighted on the Satellite calendar.
Point to Swag Conversion*
*Satellite points cannot be used to purchase beer at COTU but can be used to purchase gift cards.  Gift cards may be used as normal.
1 Point = $0.25 
Other Point Redemption and Earning Opportunities
Additional events and point earning opportunities will be announced, poster on the Satellite Facebook site, and added to the Satellite calendar throughout the year.  Below represents some confirmed examples of those events.
Satellite Events Google Calendar
https://calendar.google.com/calendar/u/0?cid=MDNjNGM3MTk5YjcyOGY5NzRmMzdmNjE1OWI2YzBiN2MyZTZkZjhjODcwN2JkZGQzNWVmNDRlOWM4NjA2YjViMUBncm91cC5jYWxlbmRhci5nb29nbGUuY29t
https://calendar.google.com/calendar/ical/03c4c7199b728f974f37f6159b6c0b7c2e6df8c8707bddd35ef44e9c8606b5b1%40group.calendar.google.com/public/basic.ics
Satellite Glass
Once a Satellite has earned 10 points, they are eligible to use the Satellite glass at the brewery.  This perk expires if the Satellite fails to record a point over a continuous 6-month period.  They are able to earn it back by earning an additional 10 points.  With points never expiring, there is no annual point threshold to retain glass privileges as long as that 6-month point lapse does not occur.
 July 4th Squirrels Game – 25 Points
2 Tickets to the Richmond Flying Squirrels game along with $20 in Squirrels Bucks while supplies last.
October 13th: COTU Halloween Party
Satellites will earn 5 additional points, on top of the customary 1 taproom visit point, for showing up in costume for the COTU Halloween Party.  What constitutes a costume will be determined by the manager on duty for the event.
December 16th Satellite Holiday Party
Every Satellite with a minimum of 10 points accrued starting January 1st of the same year will receive one complimentary refreshment and free access to the buffet at the event.
Outside Sales Events
There will be intermittent COTU events all around Metro Richmond that include tap takeovers, steal the glass nights, and samplings.  These events will be put on the Satellite calendar as well as posted on the Satellite website.  Only events appearing on this calendar will be counted as they will have a COTU representative attending that can record the points.  There are 2 options for Satellites when attending these events.
Option 1: You can redeem Satellite points for a 12oz or 16oz COTU product of your choice at the location with an exchange rate of 1 beer per 10 Satellite points. Only 1 beer can be redeemed per Satellite per event and the beer must be produced by COTU.  The beer will be ordered by the COTU rep on site once notified by the Satellite.
Option 2: If you choose to attend the event, wearing COTU merch, and do not trade in points for a COTU beer, you will be awarded 5 Satellite points that can be redeemed at a later date.