February 16, 2023
Available Positions at Center of the Universe
Ashland Brewery,
Events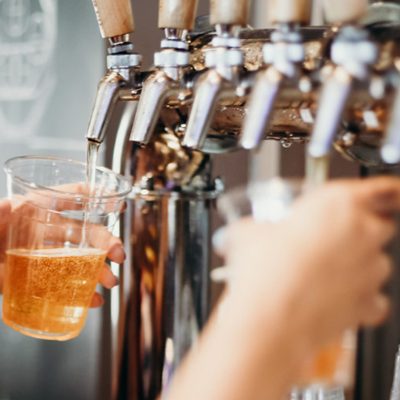 The following positions are currently available at Center of the Universe Brewing Company.  If you would like to be considered for any of these positions and join the COTU family, please send a resume to info(at)cotubrewing(dot)com.  We can't wait to hear from you!
Shift Brewer
Taproom Server
Taproom Key Server
Shift Brewer
Center of the Universe Brewing Company (COTU), a production brewery located in Ashland, VA (Metro Richmond Area), is seeking a full-time shift brewer to add to our team. We are looking for a highly motivated and skilled brewer/cellar person to continue our 10 years of crafting award winning and exceptionally consistent beer in central Virginia.  In addition to being an all around awesome person, the ideal candidate will possess the following skills:
1+ years working as a commercial brewer/cellar/packaging person at a production facility or brewing degree
Commitment to quality and consistency
Ability and willingness to diligently follow recipes and procedures
Attention to detail and documentation
Ability to lift 55lbs and move 160lbs when necessary
Excellent sensory analysis
Have at least as much passion for producing great beer as we do
Duties:
Operating and maintaining a 15bbl brewhouse
Cellar duties from CIP to fermentation monitoring
Operation and cleaning/sanitizing packaging and kegging equipment
Cleaning and sanitation of the brewhouse and cellar
Work with partner(s) to perfect recipes and processes
Basic maintenance and repairs
Quality Control
Produce amazing beer
Days/Hours:
Monday – Friday
First or Second Shift
No nights or weekends!
Benefits:
Competitive Salary BOE, Health Care, Paid Vacation/Sick Time, Trips, Annual Bonus, New Friends
If you are interested in working with us at the Center of the Universe, please send your resume to info(at)cotubrewing(dot)com.
Salary: $17.00 – $20.00 per hour
Benefits:
401(k)
Employee discount
Health insurance
Paid time off
Schedule:
8 hour shift
Day shift
Monday to Friday
No nights
No weekends
Supplemental pay types:
Experience:
Professional Brewery: 1 year (Required)
Taproom Server
Job Description – The Tasting Room Server is responsible for greeting, serving, and educating patrons visiting to the taprooms.
Server responsibilities include:
Cultivating a lively, upbeat environment
Assisting guests by providing info about our beers and tasting notes
Maintaining a clean bar and taproom
Opening and closing the taproom with assistance from your coworkers
Occasionally changing kegs
Job Types: Full-time, Part-time
Salary: $10 an Hour Plus Tips ($15/hr min guaranteed)
Benefits:
Employee discount
Paid sick time
Paid time off
Weekly day range:
Monday to Friday
Weekend availability
Key Server
Job Description – The Key Server is responsible for overseeing day-to-day operations within the Center of the Universe Taproom. This includes exceeding guest expectations by working with ownership, the Taproom Manager, and through the tasting room serving staff to enhance sales, service, and visitor experience. The Key Server also assumes responsibilities passed along by the Taproom General Manager when appropriate.
Responsibilities – The following reflects management's definition of essential functions for this job but does not restrict the tasks that may be assigned. Ownership and/or the Taproom Manager may assign or reassign duties and responsibilities to this job at any time due to reasonable accommodation or other reasons.
1. Create a positive and respectful work environment for the tasting room serving staff, by leading through example, consistent with Center of the Universe's values.
2. Support and provide guidance for the team and ensure adherence to all policies, procedures, and Virginia ABC regulations.
3. Oversee the taproom during service hours to ensure the staff is executing their duties and the customers are happy.
4. Make frequent table visits during the course of a shift to ensure customers are having a good experience.
5. Handle all in person customer complaints while on duty.
6. Ensure that the facility is in good order and stock of beer, swag, and janitorial products are up to par.
7. Assign duties to taproom servers when appropriate.
8. Perform duties assigned by ownership or management in a timely manner including but not limited to frequent line cleaning and inventories.
9. Attend and contribute at weekly manager meetings with ownership.
10. Opening and closing of the taproom.
Salary: $15.00/hour + tip percentage – $20/hr guaranteed per shift
Benefits:
Employee discount
Paid sick time
Paid time off
Shift:
<8 hour shifts
Evening and weekend shifts
Experience:
Restaurant or Taproom Serving/Managing: 1 year+ (Required)